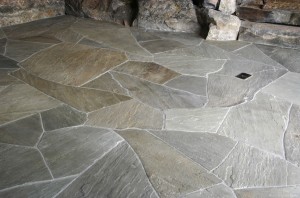 You've probably seen them and thought to yourself "wow, that's really pretty" but had no idea that you were looking at what are actually known as Bluestone Pavers. Making Sidewalks, gardenscapes, walls, and driveways majestic and prominent are obvious benefits of this super material, but it's the intangible benefits that really impress. For example Bluestone Pavers have a non-slip thermal surface so you can be confident that your property is safe and secure.
Before we delve any further into this, let's learn a little about what Bluestone Pavers are:
Bluestone is a natural stone. It is a blue-gray sandstone, consisting of a mixture of sand compound and quartz particles. Bluestone has been quarried in the USA since the early 1900's, particularly in the regions of New York and Pennsylvania.

The word bluestone was originated from the building and trade industries to describe and refer to the popular stone. It does however have a technical term. Bluestone's geological term is, 'feldspathic sandstone', meaning finely-grained arkosic sandstone. (Via Paversearch)
Other benefits of using Bluestone Paversare as follows; The stone has a hard and wearing nature meaning that it's reliable over the course of time, the Pavers are also a dense and heavy material meaning that they will stand up against the harshest weather conditions.
If you're interested in having Bluestone Pavers installed on your property, you can contact us and we'll consult the best way to get the job done. Today there is also a large market for man-made pavers, which The Mazzei Group also installs Cambridge, Capital Pavers, Grinnell, and a host of other brands.
C
all RIGHT NOW for your FREE ESTIMATE: (347) 723 – 1825