Over at GreenHomeGuide, they provide a very useful guide to reference when looking to have remodeling work done on your home or business. the guide which was released in 2008 and still provides all of the information you might need.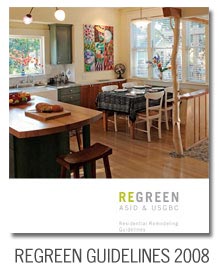 The American Society of Interior Designers' Foundation and the U.S. Green Building Council have partnered on the development of best practice guidelines and targeted educational resources for sustainable residential improvement projects.

This program will increase understanding of sustainable renovation project practices and benefits among homeowners, residents, design professionals, product suppliers and service providers to build both demand and industry capacity.

Whether you're a renovation professional or a savvy do-it-yourselfer, let REGREEN help green your next project. REGREEN is easy to use and chock-full of information, but if you find you have any questions, please e-mail regreenprogram@usgbc.org.
Download the PDF on their site here.
At GHR's homepage you can find more than just this PDF, you can also find information about REGREEN webinars, useful checklists, and slideshow presentations.
We here at The Mazzei Group are behind the Green Movement and would love to REGREEN your building! Contact us, and we'll get you up to code.
C
all RIGHT NOW for your FREE ESTIMATE: (347) 723 – 1825