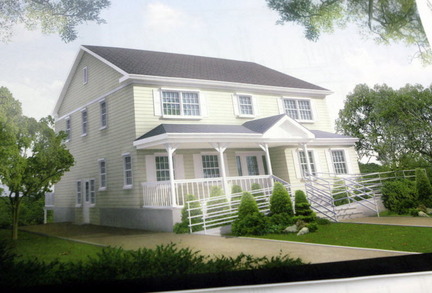 Teri Russo has taken in four boys with Down syndrome and raised them, playing a significant role in their development.  Teri's dream is to know her boys will always be okay and with their chronic health problems. They need a handicap accessible home that will also be energy efficient.
The Mazzei Group is proud to be a part of it as the General Contractor.
Through fundraising, generous donations of time and materials, this project will happen. According to the SI Advance: "Gianni Russo, Ms. Russo's brother, who is the fundraising chairman, said that to date $300,000 has been raised for the $900,000 project."
The house complies with all Americans with Disabilities Acts standards; with six bedrooms, an elevator and a generator. There is a large eat-in kitchen and a full basement. The house is designed to be as comfortable as possible for the boys, in hopes to keep Teri's dream alive.
When she and her boys are gone it is designed to help more boys and keep the Down Syndrome Foundation alive. The house is going to be built to angle at every possible need, so in hopes the model can also be duplicated for other houses.
Teri's House will also be using Geo-Thermal energy to heat and cool the home. Aside from being better for the environment, it is also a great money saver. Geo-Thermal energy goes 100 feet below the ground and uses the constant temperature of 50 degrees as a base to heat, and cool the home. It is energy efficient simply because of how much less it has to work to move the temperature. The outside temperature varies, but underground it stays constant.
As groundbreaking began, everyone involved in this project was very excited and waiting as the results manifest over the coming months.
The Mazzei Group is incredibly honored to be a part of something as important and generous as this home. This is a great experience for us from every standpoint. This is going to turn out to be a handicapped accessible, energy efficient home that will save her money, and help her be able to help her boys.
Watch the NY1 clip of the groundbreaking of Teri's House
Photos from the groundbreaking
C
all RIGHT NOW for your FREE ESTIMATE: (347) 723 – 1825